The Coronavirus Aid, Relief, and Economic Security Act (or the 'CARES Act') has finally been released. The bill is the third and largest part of the congressional coronavirus response package. Its price tag comes in at over $2 trillion. And it is moving at warp speed, having already passed the Senate and waiting action in the House. So let's jump in to see what's in it!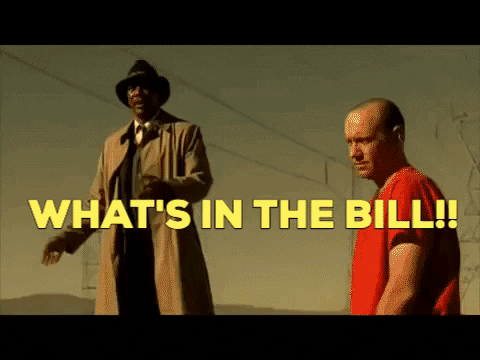 Is Joe Exotic's zoo still open? 
Wrong article. But yes.
Whoops. If the bill passes, how much money do I get? 
Most Americans over the age of 18 will receive $1,200 with an additional $500 per child. If you make more than $75,000 (or $150,000 joint-filing), then the amount is reduced by $5 for every $100 you made over that threshold. Confused? Here's an illustrative chart from the Tax Foundation. 
You can also use this handy calculator from the Washington Post: link
When will I get the money?
If the IRS already has your bank account information from previous tax filings, then you will likely see the money arrive by direct deposit in the next 2-3 weeks. If they don't have your bank information on file, it could take a couple of months – though the IRS is working on solutions to speed up the process which include issuing debit cards instead of mailing checks. 
What if I lost my job? That's not going to be nearly enough.
You are eligible for unemployment insurance, which is run by state governments. The amount of compensation will depend on your pay and the state formula (the nationwide average is about $400 per week). The CARES Act did add an additional $600 per week to the compensation for up to 4 months in hopes that it will make the people that lost their jobs whole. 
This became a point of contention at the end of the debate due to concerns that it will be more lucrative for some workers to be on unemployment insurance than to keep their jobs – creating poor incentives. Ultimately, Congress decided that it was a necessary tradeoff as there was not an easy administrative fix to prevent it. 
I'm a gig worker. Am I covered?
Yes, independent contractors, gig workers, free-lancers, and self-employed workers are eligible if they are no longer able to work as a direct result of the coronavirus crisis.
What about small businesses?
The largest portion of the bill is the $850 billion in loans that will be available to businesses. A $350 billion subset of this will be for small business and will be administered by the Small Business Administration (SBA). It will be made available for businesses with under 500 employees (although that definition varies depending on the industry). 
But the big part is that loans taken out to cover payroll, rents and utilities will be forgiven. In other words, these are massive grants to small businesses. 
However, there is a question about whether the $350 billion will last if the impacts from stay-at-home orders and other lockdown policies last longer than a month. We all hope that a return to normalcy will come sooner, but Congress may have to act again if this is prolonged.
And big businesses?
Larger businesses will be eligible for loans and loan guarantees that will be run primarily by the Federal Reserve. The CARES Act allocates $454 billion to this effort, which will reportedly provide about $4.5 trillion in lending power to the Federal Reserve (i.e. the Fed will be able to leverage this funding to extend 10 times the amount of loans). 
I thought I read something about the airlines. What's the deal there?
There is a special $46 billion loan allotment, of which $25 billion will go to passenger airlines, $4 billion will go to cargo airlines, and $19 billion will go to businesses that are important to our national security. In addition, the bill provides $33 billion in grants (i.e. funds that do not have to be repaid) to airlines to help them stave off furloughs and pay cuts. 
Is that the slush fund I heard about?
The lack of oversight over the approximately $500 billion for large businesses is why some people were referring to it as a "slush fund." However, there were limitations and oversight added to this section. For starters, there will be a special Inspector General and a special oversight committee in Congress to look at how the funds are spent. 
The bill also included restrictions that prevent companies that take federal loans through this provision from buying back stocks (more info on that concept here). Finally, the bill adds a provision that limits companies that have direct ties to the Administration (i.e. Trump and Jared Kushner) from accessing these loans.
Phew, that's a lot. 
Well yeah, it's the most expensive spending bill in American history.
Anything else? 
A ton. Let's try to work through the highlights.
$25 million for the House of Representatives "salaries and expenses"
Wait. Stop. Why?
According to an information sheet, the money is for "the House's capability to telework, including the purchase of equipment and improvements to the network" and to "reimburse costs for the staff of the House Child Care Center and House restaurant contracts."
The Senate got a $10 million boost as well.
Okay, continue. 
$23.5 billion for farmers (on top of the $30 billion+ they have received from the China trade war)

$24 billion for child nutrition programs and food stamps

$1.5 billion in economic development grants at the Economic Development Agency (EDA), which is quintuple their typical budget 

$850 million for a law enforcement grant program (Byrne JAG program), more than double their typical annual budget

$10.5 billion for the Department of Defense 

$400 million for election security grants

several provisions providing tens of millions of dollars to agencies to facilitate remote work capabilities

$45 billion for FEMA's disaster relief response

$25 million for the Kennedy Center for the Performing Arts
Seriously?
Sigh. Congress is gonna Congress.
$75 million

each

for the National Endowment for the Arts and National Endowment for the Humanities on top of the $155 million that they each already get for their annual budgets
Oh come on!!!
$140 billion for the Department of Health and Human Services – including $100 billion to help hospitals respond to the outbreak and $16 billion to procure proactive equipment, ventilators and other medical supplies for the national stockpile, and an additional $11 billion to support the development of the coronavirus vaccine. 

$31 billion for the Department of Education, including $13.5 billion to support the needs of k-12 schools and $14.25 billion to support colleges and their students. 

the bill also suspends student debt payments for six months without incurring any additional interest

$25 billion in grants for transit providers

$280 billion in tax cuts for businesses in the form of changes to interest payment deductibility and the ability to carry back losses (if you want to get into the weeds, you can read more here)
Okay, okay. We get it. There's a lot of money going to everything. Where is the money coming from?
All this money is not coming from President Trump. It's coming out of our future paychecks. 
We are borrowing 100 percent of the $2 trillion in new spending and loans. The deficit was already projected to be at a sky high $1 trillion this year. Now, it could come in around $3 trillion in one year! That will be the largest deficit in American history. 
That's not to say that this bill is not necessary. We are in an unprecedented moment right now. The global economy came to a halt and millions of people, through no fault of their own, had their livelihoods stripped from them. This massive package is not a stimulus package, it's a relief package. 
Doesn't this mean we can afford to do big federal initiatives like the green new deal and medicare for all?

Some people will try to argue that since we are debt-financing the coronavirus response, we can debt-finance other massive programs. But they fail to acknowledge that one is a one-time response to a disaster, and the other is a permanent commitment.
It would be like saying newlyweds that spend their honeymoon at an all-inclusive Caribbean resort can afford to live there year-round.
Well, at least interest rates are low.
It helps, to be sure. But our national debt is so large that our interest costs are still substantial. The Congressional Budget Office (CBO) already projects that annual interest costs will rise to $928 billion 10 years from now – higher than defense spending ($771 billion), Medicaid ($702 billion), and all non-defense discretionary programs combined ($759 billion).
Moreover, just because we have low interest rates now does not mean we will have low interest rates forever. On the other hand, absent major changes from Congress, the $23 trillion and counting national debt will continue to stay around. A single percentage point increase in interest rates will add $1.8 trillion in interest expenses over the decade. 
Is it even possible to get on top of the national debt at this point?
It was already hard – we need $400 billion in deficit reduction every year to sustain current levels. That goal just got a lot harder. But for the sake of younger Americans, it's still crucial. That means that the resources being used for this response should not be squandered on stuff like checks to gainfully employed Americans or funding boosts to the Kennedy Center. It also means focusing on oversight over the disbursement of funds to businesses of critical importance.
There's been a lot of discussion about how, despite warnings, the United States was not adequately prepared for this pandemic. Well, there has also been a lot of warning about our nation's fiscal trajectory. Once we get past the coronavirus, it will be time to get to work on that.
Is the CARES Act going to pass?
The short answer is yes. The longer answer is yesssss. 
The Senate already passed the bill 96-0 – a signal of strong bipartisan support for the package, though not a signal that everyone thinks the bill is perfect.
The House needs to pass it before it can get to the President to become law. House leaders are trying to figure out how to make that happen without requiring all the members to go back to DC to vote – given health concerns with travel. Regardless, it will definitely pass. 
Anything else?
Stay safe and healthy!