As Washington seemingly descends into the kind of madness only a Supreme Court nomination can cause, the economy continues to move along at a pace not witnessed in five years. There's been a lot of uplifting news over the past several months as GDP growth hit 4.2 percent for the second quarter, the unemployment rate remains at an eighteen-year low of 3.9 percent, and consumer confidence has risen to an eighteen-year high.
However, the Republican-controlled Congress just passed a $855 billion spending bill as part of a "cromnibus" designed to keep the government open until December 7th of this year. The bill—one part appropriations package and one part continuing resolution—essentially punted on spending levels and abandoned policy priorities for various agencies and departments, including the Department of Homeland Security and the State Department.
It also locked in $19.8 billion more in defense spending as well as $3.8 billion more in opioid spending and a $2 billion increase in NIH funding.
This is indeed evidence of a severely broken budget process. When paired with the fact that our national debt is closing in on $22 trillion, alarm bells should be going off for just about anyone paying attention.
This presents a clear threat for continued economic growth in the long term. The interest alone on the debt is expected to be more than total defense spending by 2028. Unless and until Congress makes significant discretionary spending cuts and reforms to Medicare and Social Security, the national debt will eventually crush the American people.
Millennials and younger generations will bear a significant brunt of the fallout.
But in the short term, the Administration's trade war and tariff strategy would seem to be serving as a brake on an economy that is attempting a sustained sprint. Just this week, a report showed that the tariffs are already hammering Ford Motor Company as well as retailers like Bed, Bath, and Beyond.
Wal-Mart and Target are also sounding the alarm that the tariffs threaten to raise the cost of goods and significantly impact consumers.
The Administration's policy is starting to mirror the Cleveland Cavaliers from last year's NBA Championship. America's economy is trying to seal a hard-earned win, but then J.R. Smith just decided to take off in the wrong direction.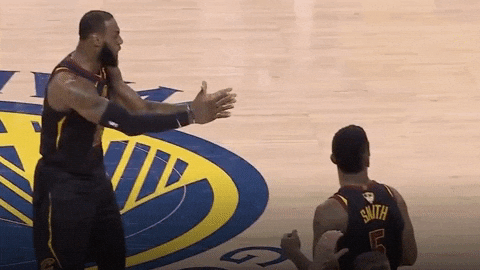 Already Americans are starting to face the consequences of a potentially open-ended tit-for-tat taxation war with our trading partners. Farmers have essentially been begging the Administration to back off. The paper and print advertising industries have started seeing job losses. And the auto and retail industries are already shoving off cost increases on to consumers.
U.S. trade policy is now essentially doing what J.R. Smith did to the Cavaliers: going in a direction that is threatening our success and working in favor of our competition when we've currently got the momentum. In this instance, the competition are other economies with centrally-planned schemes that stifle growth, prosperity, and freedom necessary to compete.
For those who are still in college or relatively new in the workforce—or even in the midst of their careers—these cost increases will have an impact on savings and everyday expenses that will ultimately inhibit future prosperity and opportunity.
If forecasts are to be believed, the ongoing and increasing tariffs between the United States and top trading partners like China, Canada, and Mexico have caused economic growth projections to decrease from 4.4 percent to 3.8 percent for the third quarter.
We'll find out soon how fast the economy is growing and whether those forecasts are accurate.
Regardless, higher taxes on basic goods will result in diminished productivity, jobs, and savings for American families and individuals. This will inevitably slow down long-term economic growth if it continues unfettered.
Unfortunately, Congress has also signaled that it intends to take no action on giving itself more authority over Section 232 of the Trade Expansion Act—the statute that essentially was outsourced to the Executive branch and provides the Administration with their ability to levy tariffs with minimal congressional oversight.
We elect our representatives to make laws. They have the power—and some would say the responsibility—to wrest control back from the other branches when things have moved out of balance.
They have chosen, much like the cromnibus disaster they just pushed through, to take a hard pass on attempting to give themselves the ability to pump the brakes on the escalating trade war. They have simply resorted to introducing legislation so they can virtue signal that they "did something."
Congress may fancy themselves as the LeBron James in this situation—exasperated and staring in disbelief at an Administration undermining its own economic success. Of course, Lebron actually attempted to put his team on his back and win.
Which is a far cry from the limp efforts of lawmakers.